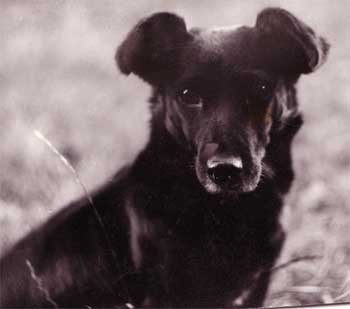 My very first dog - a female mongrel Aranek - 1980 - 1991
My firts beagle - I wanted a dog going well with horses - was a beagle without a pedigree, which I got in 1991 ( I found out that it really wasnīt possible without dog). Her name was Dixi and after 2 years spent in her companionship I absolutely fell for beagles. And so in 1993 I traveled to Slovakia to the Weinlichs to get Nella Blyskavica, and because it became clear very soon that going to dog show with only one dog is not enough I bought another one, again from the Weinlich family, and her name was Rossa Blyskavica. And because in my opinion it doesnī tmatter how many beagles keeps ( when there are more than two ), I got the third one - Brita - even if she was 2 1/2 years old at that time. Her original owner couldnīt keep her and I liked her at the first sight.
Than I made a decision that I should try to train a bit different kind of dogs and consequently I bouhgt a slent-hound Rena. In 1996 another beagle, brought to our country from Germany by Mr. Dvorak, extended my " pack" . He was an 8 months old male dog, called Forrest. And there was only one step to setting up the Kennel Rapa - nui, and in 1996 the first puppies was born. For those who donīt know what Rapa - Nui means - for explanation - itīs the translation from the Easter Islands from the original language of the inhabitatnts there, its meaning is " the centre of the world" . All the kennel owners started from Z, and so the family of Czech beagles was getting bigger with the puppuies Zebra, Zipp and Zephyr Wind.
I also started organizing " Beagle camps ", the first one was realized in 1998. I had 7 beagles at this time( of course - it wasnīt possible for me to sell all the puppies) and one slenth-hound Rena. In 1999, at the second Beagle Camp, I met my husband. In the same year I moved with my dogs to his house and I havenīt had to limit the number of my dogs since. Tha result is that at the present we have 17 dogs together.
One of my biggest succes at dog shows with my Rapa - Nui Kennel is in year 2005, when I won at the International Dog Show in Brno and my Kennel group of beagles placed the first.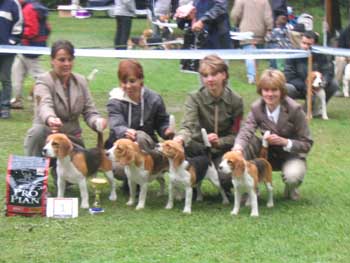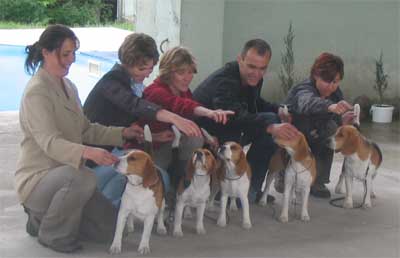 Club show BC CZ Konopištė 2005 - Group 1. place Club show BC CZ Zbraslav 2005 - Group 1. place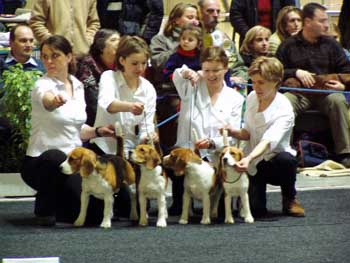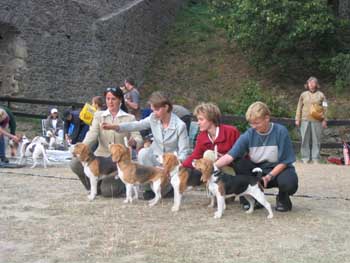 Brno 2005 - Groups 1. place Special show BC CZ Helfštýn 2004 - Group 1. place
Barbora Budková, Hlavenec 124, 294 74, CZ